22nd Jan 2018
Crypto Apps: 3 Best Cryptocurrency Apps for 2017-2018
Anyone who is involved in the process of trading with cryptocurrency and for those just starting in this exciting business are always going to experience problems with this kind of changes and the need for proper applications that can help them see the best results is going to be extremely important.
It is for this reason that the need to look for apps that are efficient, practical and free is going to be extremely important after researching, downloading and testing many are those who are best suited to your needs.
1) Blockfolio Crypto App
The first is blockfolio and this app is perfect for keeping track of your operations, because it provides excellent tools such as the real-time charts, alerts, and you can also enter the amount of cryptocurrency that is available in your wallet and know exactly how much you have and how you will invest that in a way that help you earn more.
It is properly synchronized with the price that can be seen currently in the main markets such as poloniex bittrex and it also gives you complete and total confidence when you finally decide to get started with a follow-up to the different types investments that you could have in this. It is for this reason that you should have this app on your mobile device and this is available for the android and apple operating systems, so you won't have to worry about issues with that.
2) Bitcoin Wallet 
Crypto
App
As the name of the application is quick to suggest, Bitcoin Wallet, an application designed by Coinbase. It has been developed exclusively for the purpose of efficiently administering accounts in a way that is similar to Paypal or a bank account or even a physical wallet in your pocket. You can spend Bitcoins, purchase goods and other activities without losing control of the proper administration of your finances. Another positive aspect that you can find with this amazing application is that, if you happened to lose or the phone, you can gain access to it and disable it remotely in order to ensure that the person who has it is unable to use it.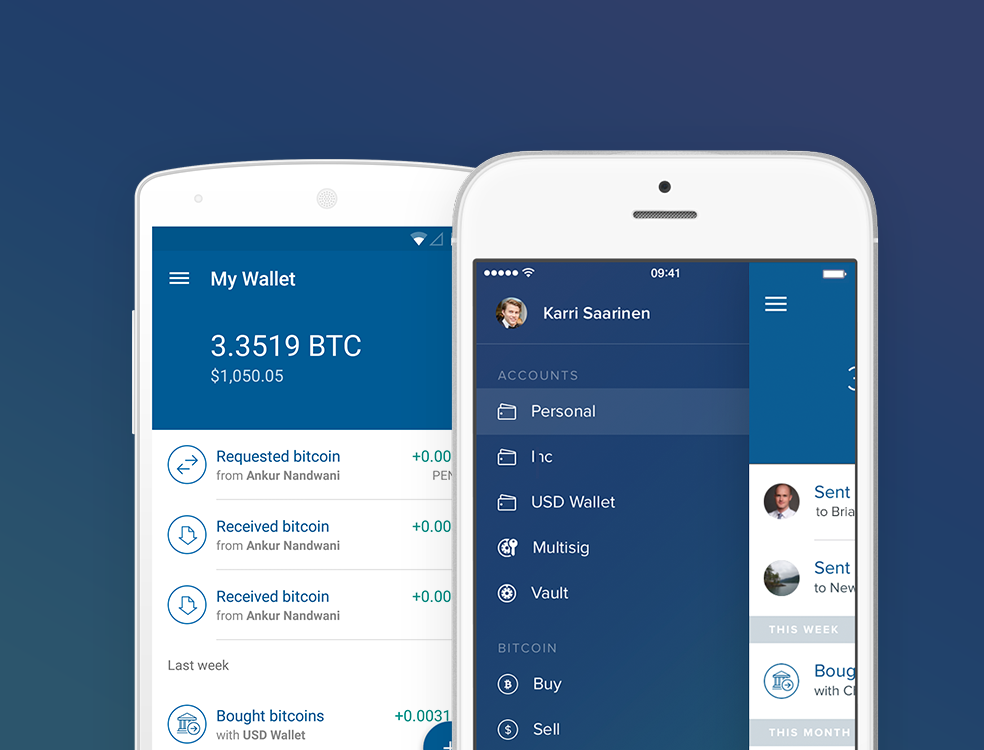 3) Cryptonator Crypto App
Cryptonator is yet another essential application cryptocurrency that could be in your possession. Not only can this end up monitoring the performance of the currencies in a month as if it worked well or badly. The application supports the conversion of a large number of coins that come with different encryption and this useful and powerful application also comes with a widget in case you want to make use of this feature. This application is definitely the one-stop shop for all Bitcoin users and for cryptocurrency enthusiasts.
There many important things that all apps should have in order to be competitive in modern times. Here are some of the most relevant and important features that you should expect to find in any application that you choose to use.
Portfolios
We can add to our portfolio all currency that we have and the amount of each. So we will be able to see the total sum of the value of our portfolio, the evolution that has taken during the time and many other data, such as the loss or profit of each currency separately or even each transaction.
Watchlist
This is going to be the section where we will add all those coins that we want to follow closely. This has built-in support for dozens of platforms for buying and selling currencies, and of course, for all currencies that are constantly bought and sold on those platforms.
Transactions
Adding to our portfolio the coins that we have we can do this by using the transactions. If we indicate the date, the value of the currency to buy/sell it, commissions and other details we will have a post with all the losses or benefits. This option is very interesting to see a timeline of transactions and not never get lost the status of any of them.
Alerts
To make a follow-up to truth, there is nothing better than to create alerts that indicate if a currency reaches a certain value. Interesting to know when to sell or when to buy for example. You can create all of the alerts that you want for all the coins that you want.
Final thoughts
The most important thing for anyone to consider is that even the top 3 apps for this purpose are not the only choices you have. There are many apps that are just as good as the ones we have mentioned, but you need to be on the lookout for the best possible option that might turn out to be much more beneficial for your needs.
The best thing to do in this kind of situation is to simply look for a proper way to stay updated with the kind of results that you can get from every single app. Always dig into the information you find and make sure that you do proper research if you want to find the kind of results that are going to make a huge difference.
We also recommend that you take the time to subscribe to any forums and blogs that are constantly coming up with updates on cryptocurrency news. This is going to allow you to expand your business completely and that is going to be one of the best ways to ensure that you can pick the best apps that are available for your needs.
The best way to maintain the highest level of awareness in this constantly changing industry is to be informed at all times. Social media is also a good place to find some great cryptocurrency related groups that have a wealth of information and they also have a large number of people who are very knowledgeable. This is a great way to learn more and more about the cryptocurrency world which is always changing and always evolving. Just make sure that you are also changing and evolving with it because that will help you achieve better results.